At my Necromancy class in New Hope this month, Eric, the owner of Mystical Tymes, gave me a copy of the Heindel tarot. I told him I always admired the art, but was always turned away by something. Now I know what. Its the use of Gods instead of Court Cards. For instance the Queen of Wands is Kali.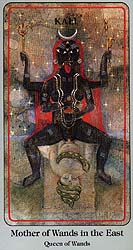 This turns me off big time. First because the deck flits between four mythologies for no compelling reason
. Why Hinduism, Native American, Egyptian, and Celtic? Why not Norse, Slavic, Shintoist, and Persian? I dunno.
The bigger issue though is that by using dieties to play th
e roles of the elemental court cards, you are downplaying the importance of the Major Arcana, who should be the stars of the show. The magnitude of say the Tower or Death is greatly diminished when Kali is sitting there as the Queen of Wands. Just doesnt work for me.
The shame of it is, that the Haindl isnt the only great looking deck to be ruined by this. One of my favorite decks of all time is the Barbara Walker Tarot. If you ever want to scare the bejeezus out of someone, give them a reading with the Barbara walker tarot
. Its very 70's dark-occult. Every card is people in dark robes stabbing things.
Sadly Walker also takes mythological figures and places them in court positions. Here is Kali again, this time as the queen of swords. She also does Atargatis with a vagina dentata, a really Satanic Baal and some others.
Anyway. My point is, if you are designing a tarot deck with awesome art, please please please. just dont make the court cards into random deities.