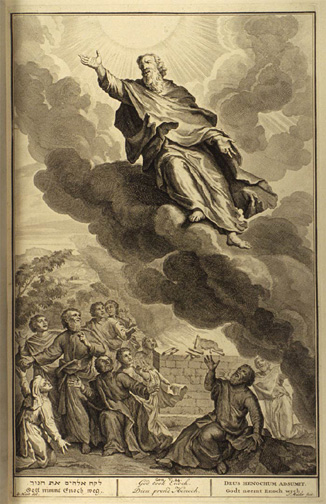 Seems like since the publication of Lon's new book everyone is doing Enochian. Heck, he makes it so easy even I am tempted to revisit it. Back when I was exploring Enochian there was no where near the resources that are out now. You kids have it easy. I had to mottle though the GD red-book, Enochian Sex Magick, and those horrid Schueler books. Laycocks dictionary was reliable, as was some stuff that Christeos sent me. I eventually joined a decent Enochian newsgroup just in time to watch Ben Rowe and Gerry Schueler flame each other endlessly. I remember someone dubbed it Ben & Gerry's Choronzon Crunch. 
I did get down to the work though. I always loved Regardie's watchtower ceremony, there was a time when I wouldn't do a damn thing without it. I than got really into scrying the Athyrs. It was actually in ZAX that a being (I hesitate to use the term angel) named me Inominandum. It was also through scrying the athyrs that I started to become suspicious of the whole system. 
For one thing the Aythyrs did not feel like I was progressing outward as the GD maps of them would have you believe. One didn't feel any less dense, more wise, or in any way "higher" "deeper" or more advanced than the next. I knew that the athyrs were also assigned to parts of the earth and this jived more with my findings. It wasn't until later that I realized that the whole idea of the Athyrs extending outward from the earth (or watchtowers) like the planetary spheres in Greek theurgia was introduced by the GD and had no real basis in Dee's and Kelly's experiments. 
I summoned all the angels of the tablet of union, and all were very friendly, but none felt at all angelic. There was not that elevation of the soul that happens when you contact an angel nor was anything particularly useful being conveyed. Powerful for sure. Generated lots of strange phenomena. One non-magician guest who was on our couch tried to make their way to the bathroom but couldn't because they claimed they were repelled by a "grid of light" that barricaded the hallway outside my room when I was scrying.
On one occasion all I did was practice the call of the athyrs on my lunch break at home because I was leading a group exploration of
TEX
that night at Thelesis. After practicing the call with no feeling or emotion, I left but was soon called home by T to banish the house because she was having waking nightmares and hallucinations. After the ritual the next morning, one of the attendees claimed that they couldn't move from the waist down for several hours.
When I began to move into scrying the watchtowers I started to get apocalyptic visions. Very detailed scenarios an EMP followed by a nuclear blast. The angels also started prattling on about judgment and trying to convince me that I had to get their message out, that I was some kind of prophet, etc etc etc. It makes you feel special, and if the messages they gave were unique of helpful in any way I would have stood on corners and preached the word. But they just weren't.  
I also got a lot of the emphasis on material cleanliness that Frater BH and MyGal seem to getting now.  This to me was a red flag as no other beings seemed disturbed by the mess of the Batchelor pad/magickal lodge that was our apartment. It seemed specifically the mark of a lower spirit.
In the end I was duly impressed by how much tangible phenomena Enochian magick was able to create, but unimpressed by how useful any of it was. I was also fairly convinced that none of it had anything to do with angels. Angles is more like it.  The whole system, top to bottom, felt sub-lunar. Some of the spirits felt a lot like the Loa.
A couple years ago I attended a lecture By Michael Lewis, who is a Tibetan Translator and who also does Enochian work. He is amongst what he termed "mages of the new flow", mages that are now receiving parts of the enochian system beyond the Athyrs and Watchtowers. It was actually at this lecture that I met Persephone. I worked for a few weeks with the Chalice diagram that Michael had received. It worked ok, but not better or worse than anything else.
Granted when I was working I had no-where near the knowledge of the system that I do now. I also didn't have as many tools as Frater BH and MyGal have put together (your pics and work are amazing BTW). I worked with a wax sigellum that I barely understood the symbolism of, and my concave scrying mirror, which remains one of my most treasured and useful possessions. Other than that I winged it with the calls.
I realize that I am more or less alone in thinking of Enochian in this way, or perhaps I am thrown in with Donald Tyson, but it was my assessment. I may revisit the systems in the future or I may not. I am really impressed by the work that others are doing in the field though. 
I do however have some ideas kindling on that other field of Enochian magick. The one based upon the book of Enoch and working with the Grigori. But that is a whole other Sigellum of Wax...